We promise you to provide compentitive on the market and the next generation paints through offering environment friendly, emphasis eco-efficiency pains and grobal, innovative overall painting system.
We accommodate various painting needs with our front line technology.
Automotive Paints
Strength
We deal with the paints for car bodies, bumpers, and various car parts that require the severe performance.
Beauty
We accommodate the needs for the automotive paints that require the ability to keeping the long term beautiful appearance.

Product Line
Melamine Paint, Acrylic Paint, Polyurethane Paint,
Electro-deposition Paint, Water-based Paint, Automotive Repair Paint, Water Repairing Paint for Car Repair
General Use Paints
We provide the various functional performances paints such as prevend the corrosion, strong on rain, wind and ultla violet ray, with the function of anti bacterial, anti viral in the colors.

Product Line
Synthetic Resin Paint, Floor and Roof Paint, Anti-mold and Anti-insect Paint, Super Durable Paint,
Steel Frame and Structure Paint, Various Corrosion Protection Paint
Industrial Paints
There is various paints for various fields from building, bridge to cell phone and a single screw.
We provide the paints for various industrial products.

Product Line
Various Resin Powder Coatings, Fire Protection Paint, Heat Resistant Paint, Conductive Paint,
Insulating Paint, UV Curable Paint, Temperature Indicating Paint
Paints Related Products
For painting smoothly and maintain the required painting quality, the various materials, that are hidden main players, are needed. We provide the various materials for painting.

Product Line
Various Solvents, Metal Pretreatment Agent, Metal Detergent, Anti-rust Oil, Epoxy Adhesive,
Urethane Adhesive, Instant Adhesive, UV Curable Adhesive, Elastic Adhesive,


Various Painting Materials(Brushes, Sandpapers, Masking Tapes, Caulking Materials)
Information for Paint Sales
■ Paint Sales Department Ota Office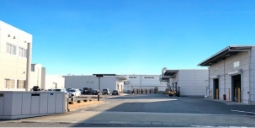 320-15 Nittakoganei-cho, Ohta-shi, Gunma